Emma Alaska XXD S3 Safety Shoes
✓ Free delivery from 329,25 excl. VAT
€129.11
€112.19
VAT included
€112.19
VAT excluded
View size chart
Hoe bepaal ik mijn schoenmaat?
De beste methode? Zet je voeten (schoenloos) op een stuk papier en teken de omtrek af. Neem nu de afbeelding van de grootste voet en meet hier de afstand van het puntje van de grote teen (A) tot de hiel(B). Dat is je voetlengte. In de tabel vind je vervolgens welke Emma schoenmaat daarbij hoort. Daarbij wel gezegd dat dit bij andere leveranciers licht kan verschillen. De volgende formule is ook handig om te hanteren: Schoenmaat = 1,5 x lengte voet in cm + 2cm.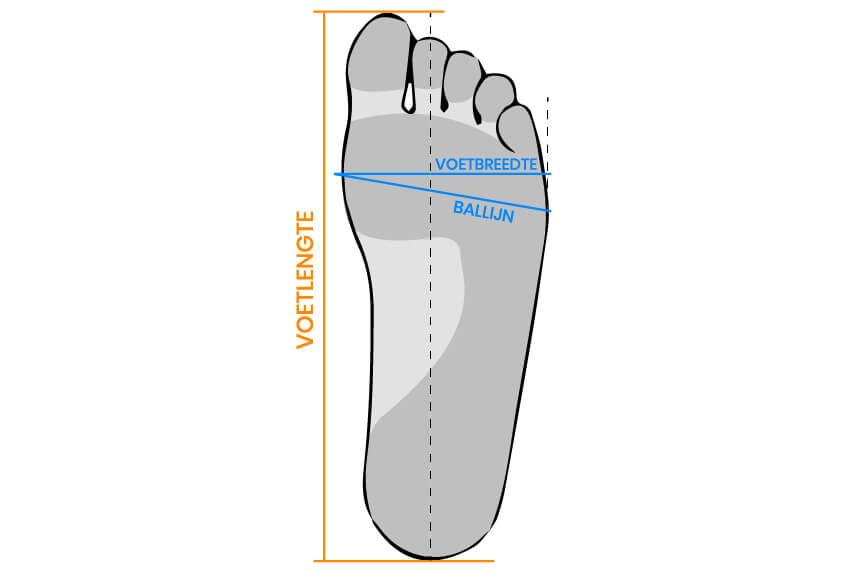 Breedtematen:
Met de breedte wordt aangegeven hoe smal of breed een schoen is, en hoeveel ruimte hij de voet daarin biedt. De schoenbreedte wordt met letters aangegeven. Breedte D is voor standaardmaten voeten. XD is voor bredere voeten en XXD voor zeer brede voeten.
Je voetbreedte dien je staande met blote voeten op te meten. Verdeel je gewicht hierbij gelijkmatig over beide benen/voeten.
Advies: laat je voetomvang door een tweede persoon met meetlint opmeten.
Plaats het meetlint om het breedste gedeelte van de bal van de voet zonder hier spanning op te brengen.
Zoek je schoenmaat nu op in de onderste maattabel, en het resultaat van de voetomvang-meting ernaast.
Vervolgens kunt je nu bovenin de tabel je Emma voetbreedte aflezen. (D t/m XXD)
Mocht je voetomvang bij een bepaalde maat net tussen twee breedtes in vallen (bijvoorbeeld 24,5 bij lengtemaat 39), kies dan voor de zekerheid het grotere getal.

Voorbeeld voor het opmeten van uw voetbreedte:
Je draagt schoenmaat 39 in Nederlandse maat, ofwel 6 in UK maat.
Je hebt een voetomvang van 24,3 cm opgemeten.
In de tabel kijk je bij maat 39 (NL) of 6 maat (GB)
Zou je een voetomvang gemeten hebben van 24,5 bij lengtemaat 39, dan kom je uit op breedtemaat 24,6 = breedtemaat XD
Alaska XXD S3 Safety Shoes - Emma
All over protection with the world's first circular safety shoe - in a range of foot widths. Alaska XXD offers exceptional wearing comfort thanks to the wide choice of different widths and sizes that are completely tailored to your feet. Furthermore, the Alaska XXD is exactly the same as the standard Alaska: a safe shoe with an impenetrable insole and steel nose. The 'sticky grip' Vibram sole made of nitrile rubber is resistant to high temperatures and corrosive acids. Thanks to the ideal fit, you will soon forget that you are wearing these shoes, until you are very happy that you are wearing them! In this circular Emma safety shoe, materials have been chosen for their long lifespan, whereby each material has a following use application.
Besides the Alaska XXD shoe, you also have the Alaska D and the Alaska XD. The difference is that the Alaska XD has a wide fit, the Alaska D a regular fit and the Alaska XXD an extra wide fit.
Vibram® outsole
Extra wide fit
Oil nubuck upper
Material:
Upper: Oil Nubuck leather
Outsole: Vibram® Nitrile rubber / HRO
Midsole: None
Footbed: Hydro-Tec® Comfort insole
Safety standard: EN ISO 20345: 2011 S3, SRC
Color: black
SKU: MM306036