Grisport Prato S3 Safety Shoes
✓ Free delivery from 329,25 excl. VAT
€104.96
€94.46
VAT included
€94.46
VAT excluded
View size chart
Vier stappen om je schoenmaat te meten
Volg onderstaande stappen om je schoenmaat op te meten. Meet altijd beide voeten op. Hier kunnen namelijk verschillen in zitten. Indien dat het geval is, neem dan altijd de grootste voet als uitgangspunt.
Leg een leeg vel papier tegen de muur aan.
Ga op het papier staan, met je hakken tegen de muur. Het is belangrijk dat je helemaal recht staat. Let er ook op dat het papier niet verschuift.
Zet een streepje op het papier waar je voet het langst is. Doe dit voor zowel je linker- als rechtervoet.
Meet op het papier de afstand in centimeters.
In onze maattabel kun je opzoeken welke maat je hebt aan de hand van de lengte van je voet in centimeters. Let op: het gaat hierbij om de lengte van je voeten, niet om de lengte van de leest. Als de lengte van je voet tussen twee maten in zit, rond dan naar boven af.
Heb je normaal gesproken een halve maat? Kies dan voor een maatje groter. Als je normaal bijvoorbeeld maat 44,5 hebt, kies dan voor maat 45. Onze werkschoenen bevatten namelijk allemaal veiligheidsneuzen, waardoor er geen flexibiliteit in de neus zit.
Breedtemaat
Naast de lengtemaat, hebben schoenen natuurlijk ook een breedtemaat, ook wel de wijdtemaat genoemd. Voor al onze schoenen hanteren wij een standaardbreedtemaat. In de tabel hiernaast is de breedte van onze werkschoenen af te lezen per schoenmaat. Een grotere schoenmaat betekent dus ook altijd een iets bredere schoen.
Twijfel je alsnog tussen twee schoenmaten? Geen probleem! Je kan de werkschoen altijd in twee maten bestellen. Het paar dat niet past, kun je altijd nog retour sturen. Zo heb je je werkschoenen ook nog eens snel in huis, zonder dat je de deur uit hoeft.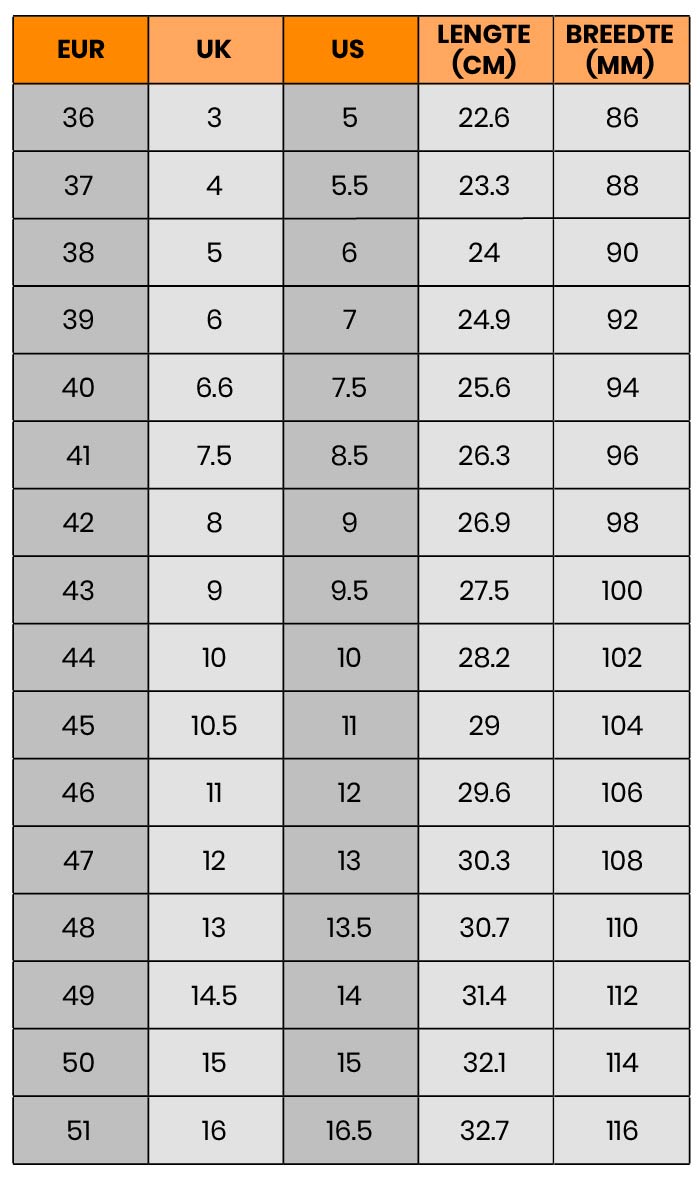 Prato S3 Safety Shoes - Grisport
Grisport safety footwear is at the cutting edge of footwear technology, it combines Safety with optimum Comfort and a Stylish look.
Constructed from high quality materials and manufactured to the highest standards Grisport provides a functional and contemporary collection, in which a perfect fit and technical excellence remain guaranteed.
Grisports also complies with all requirements of the European standards (EN ISO 20345:2012). Grisport safety shoes are available in various trendy models and colours, in sizes 39 up to 47.
Reinforced heel support
Removable Insole
Steel/plastic nose with denting resistance of 200 Joule (residual height 14 mm)
Antistatic
Energy absorption through the heel
Resistance to permeation by water
Intermediate steel/kevlar sole with non-slip profile
Comply with all requirements of the European standards (EN ISO 20345:2012)
Steel toe cap
Kevlar midsole
Applications:
Construction
Metal
Agricultural
Transport
Building
Material:
Upper section: Leather
Lining: Cambrelle®
Sole: Tpu/Tpu
Safety class: S3
Weight (for size 42): 1320 grams
Color: Black / Green
SKU: 33503