MM918549 Jack D Safety Shoe Metal Free - Emma
✓ Free delivery from 329,25 excl. VAT
✅ Unique heel construction provides particularly good support
€109.87
€95.48
VAT included
€95.48
VAT excluded
View size chart
Hoe bepaal ik mijn schoenmaat?
De beste methode? Zet je voeten (schoenloos) op een stuk papier en teken de omtrek af. Neem nu de afbeelding van de grootste voet en meet hier de afstand van het puntje van de grote teen (A) tot de hiel(B). Dat is je voetlengte. In de tabel vind je vervolgens welke Emma schoenmaat daarbij hoort. Daarbij wel gezegd dat dit bij andere leveranciers licht kan verschillen. De volgende formule is ook handig om te hanteren: Schoenmaat = 1,5 x lengte voet in cm + 2cm.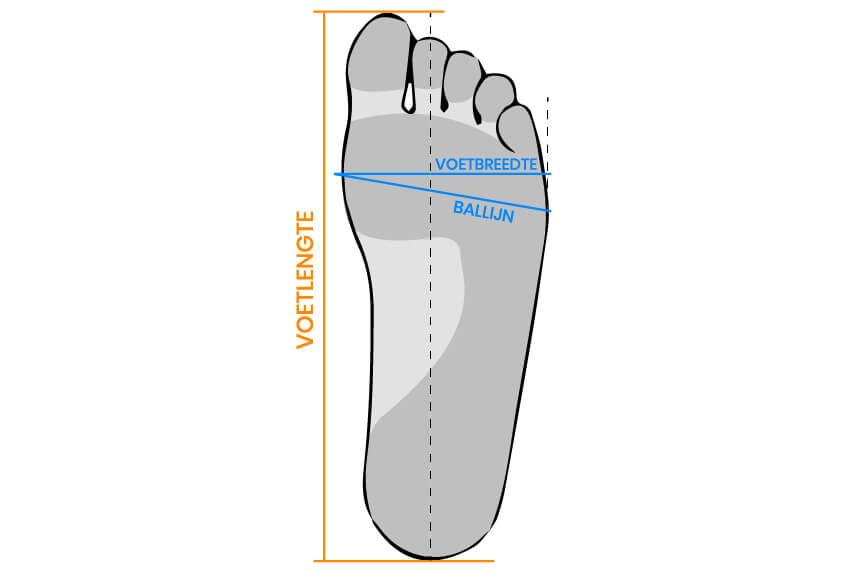 Breedtematen:
Met de breedte wordt aangegeven hoe smal of breed een schoen is, en hoeveel ruimte hij de voet daarin biedt. De schoenbreedte wordt met letters aangegeven. Breedte D is voor standaardmaten voeten. XD is voor bredere voeten en XXD voor zeer brede voeten.
Je voetbreedte dien je staande met blote voeten op te meten. Verdeel je gewicht hierbij gelijkmatig over beide benen/voeten.
Advies: laat je voetomvang door een tweede persoon met meetlint opmeten.
Plaats het meetlint om het breedste gedeelte van de bal van de voet zonder hier spanning op te brengen.
Zoek je schoenmaat nu op in de onderste maattabel, en het resultaat van de voetomvang-meting ernaast.
Vervolgens kunt je nu bovenin de tabel je Emma voetbreedte aflezen. (D t/m XXD)
Mocht je voetomvang bij een bepaalde maat net tussen twee breedtes in vallen (bijvoorbeeld 24,5 bij lengtemaat 39), kies dan voor de zekerheid het grotere getal.

Voorbeeld voor het opmeten van uw voetbreedte:
Je draagt schoenmaat 39 in Nederlandse maat, ofwel 6 in UK maat.
Je hebt een voetomvang van 24,3 cm opgemeten.
In de tabel kijk je bij maat 39 (NL) of 6 maat (GB)
Zou je een voetomvang gemeten hebben van 24,5 bij lengtemaat 39, dan kom je uit op breedtemaat 24,6 = breedtemaat XD
MM918549 Jack D Safety Shoe Metal Free - Emma - Navy
RuffNeck - The Street Born Safety Shoe. The Ruffneck is a safety shoe and a sneaker in one. The unique heel construction (rough neck) provides excellent support and is ideal for climbing ladders and pallets. Getting in and out of a truck is also hassle-free, even if it's slippery. The virtually impenetrable midsole protects you from sharp objects such as nails and pieces of metal. This sneaker with fiberglass toe cap is finished with a cool denim finish. Choose a LoNeck or a HiNeck, but in any case choose a RuffNeck.
Besides the Jack D shoe, you also have the Jack XD. The difference is that the Jack XD has a wide fit and the Jack D has a regular fit.
Metal free
Jeans/ Nubuck upper
Hydro-Tec® Antibacterial Liner
GripForce® Easy Twist outsole
Material:
Upper: Jeans/ Nubuck leather
Outsole: GripForce® Easy Twist PU
Midsole: PU
Footbed: Hydro-Tec® Comfort insole.
Safety standard: EN ISO 20345:2011 S1P, SRC
Color: Navy
SKU: MM918549