✓ Free delivery from 329,25 excl. VAT
€120.00
€107.99
VAT included
€107.99
VAT excluded
View size chart
Vier stappen om je schoenmaat te meten
Volg onderstaande stappen om je schoenmaat op te meten. Meet altijd beide voeten op. Hier kunnen namelijk verschillen in zitten. Indien dat het geval is, neem dan altijd de grootste voet als uitgangspunt.
Leg een leeg vel papier tegen de muur aan.
Ga op het papier staan, met je hakken tegen de muur. Het is belangrijk dat je helemaal recht staat. Let er ook op dat het papier niet verschuift.
Zet een streepje op het papier waar je voet het langst is. Doe dit voor zowel je linker- als rechtervoet.
Meet op het papier de afstand in centimeters.
In onze maattabel kun je opzoeken welke maat je hebt aan de hand van de lengte van je voet in centimeters. Let op: het gaat hierbij om de lengte van je voeten, niet om de lengte van de leest. Als de lengte van je voet tussen twee maten in zit, rond dan naar boven af.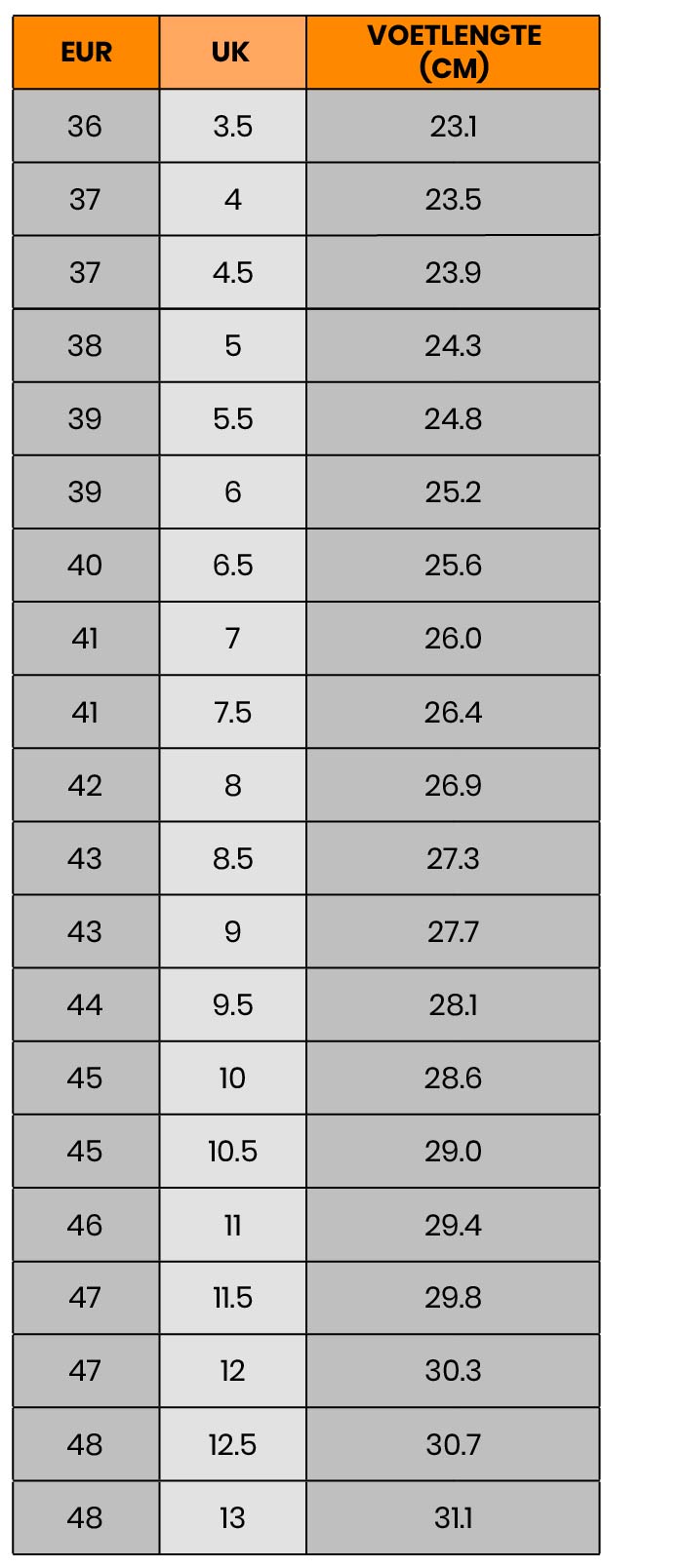 Sika 29 S3 Work Clogs
Sika lightweight PU work clogs with aclosed heel & scuff- and steel nose. A Northern European brand standing for a high quality clog. The unique so-called "hidden nails" construction ensures a long service life and a wide range of applications.
Details:
Closed heel
Weight (in size 42) 1583 grams
Over nose: Yes
Antistatic
Reinforcement at the heel for extra support
Oil, grease and chemical resistant
Heat and cold insulating
Orthopedic footbed
Very wear-resistant
Non-sticking
Shock-absorbing
Soft padding
Applicable industries:
Construction
Metal
Agricultural
Transport
Material: 
Upper section: Leather
Lining: Leather
Sole: PU
Steel nose
Wooden insole
Safety class: S3
Color: Black
SKU: 10050